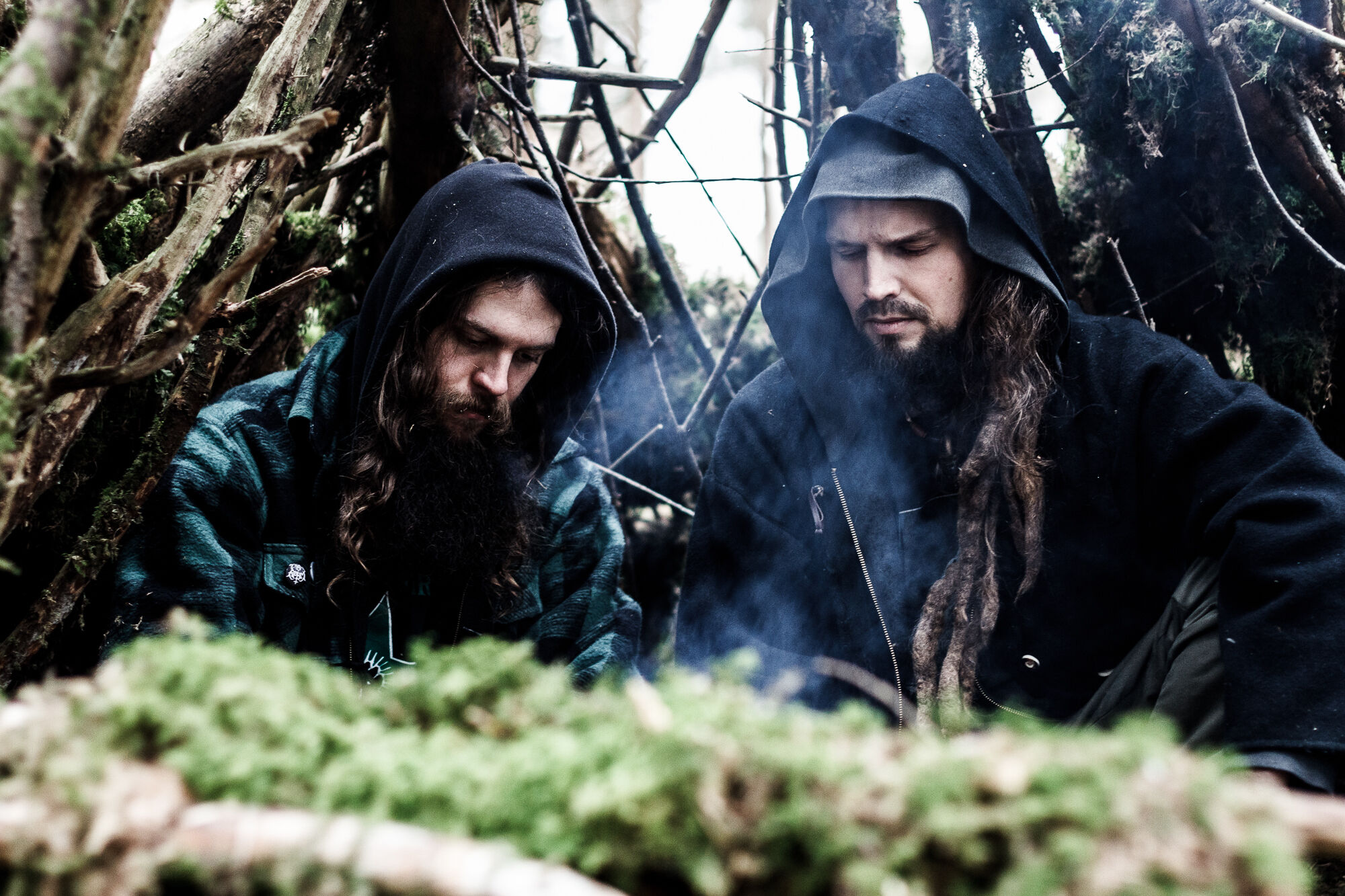 The decline of industrial society set to music, for a new life in harmony with nature.
Mixing the rough sound of crust punk with the dense atmosphere of black metal makes WIND IN HIS HAIR a unique representative of this relatively new niche in the music landscape. The band carries out an important message about nature, indigenous cultures and respect for Mother Earth.
After the debut album "Earthwrecker", the second album "Future Primitives" now portrays the return of man to his roots, a life in new simplicity.
For fans of Wolves In The Throne Room, Alda, Fall of Efrafa.
WIND IN HIS HAIR - Future Primitives [SPLATTER LP]
SCR exclusive ultra clear vinyl with black and white splatters with insert, download code, limited to 100 handnumbered copies. The decline of industrial society set to music, for a new life in harmony with nature. Mixing the rough sound of crust punk with the dense atmosphere of black metal makes WIND IN HIS HAIR a unique representative of this relatively new niche in the music landscape. The band carries out an important message about nature, indigenous cultures and respect for Mother Earth. For fans of Wolves In The Throne Room, Alda, Fall of Efrafa. Vinyl details: · 180g heavy vinyl for maximum quality and durability · heavy 350gsm cover · high quality lyrics insert · download code · "I Love Vinyl" sticker · antistatic polylined black inner sleeve A1. Modernity undone A2. Reap the storm A3. Earth First B1. Civilization and its discontents B2. Future primitives
WIND IN HIS HAIR - Future Primitives [ECO RECYCLE LP]
Recycled eco vinyl with insert, download code, limited to 200 handnumbered copies. The decline of industrial society set to music, for a new life in harmony with nature. Mixing the rough sound of crust punk with the dense atmosphere of black metal makes WIND IN HIS HAIR a unique representative of this relatively new niche in the music landscape. The band carries out an important message about nature, indigenous cultures and respect for Mother Earth. For fans of Wolves In The Throne Room, Alda, Fall of Efrafa. Vinyl details: · 180g heavy vinyl for maximum quality and durability · heavy 350gsm cover · high quality lyrics insert · download code · "I Love Vinyl" sticker · antistatic polylined black inner sleeve A1. Modernity undone A2. Reap the storm A3. Earth First B1. Civilization and its discontents B2. Future primitives
WIND IN HIS HAIR - Future Primitives [WHITE LP]
White vinyl with insert, download code, limited to 100 handnumbered copies. The decline of industrial society set to music, for a new life in harmony with nature. Mixing the rough sound of crust punk with the dense atmosphere of black metal makes WIND IN HIS HAIR a unique representative of this relatively new niche in the music landscape. The band carries out an important message about nature, indigenous cultures and respect for Mother Earth. For fans of Wolves In The Throne Room, Alda, Fall of Efrafa. Vinyl details: · 180g heavy vinyl for maximum quality and durability · heavy 350gsm cover · high quality lyrics insert · download code · "I Love Vinyl" sticker · antistatic polylined black inner sleeve A1. Modernity undone A2. Reap the storm A3. Earth First B1. Civilization and its discontents B2. Future primitives
WIND IN HIS HAIR - Future Primitives [BLACK LP]
Black vinyl with insert, download code, limited to 100 handnumbered copies. The decline of industrial society set to music, for a new life in harmony with nature. Mixing the rough sound of crust punk with the dense atmosphere of black metal makes WIND IN HIS HAIR a unique representative of this relatively new niche in the music landscape. The band carries out an important message about nature, indigenous cultures and respect for Mother Earth. For fans of Wolves In The Throne Room, Alda, Fall of Efrafa. Vinyl details: · 180g heavy vinyl for maximum quality and durability · heavy 350gsm cover · high quality lyrics insert · download code · "I Love Vinyl" sticker · antistatic polylined black inner sleeve A1. Modernity undone A2. Reap the storm A3. Earth First B1. Civilization and its discontents B2. Future primitives
WIND IN HIS HAIR - Future Primitives [LTD.DIGIPAK DIGI]
Digipak CD with 8 page booklet, limited to 300 handnumbered copies. The decline of industrial society set to music, for a new life in harmony with nature. Mixing the rough sound of crust punk with the dense atmosphere of black metal makes WIND IN HIS HAIR a unique representative of this relatively new niche in the music landscape. The band carries out an important message about nature, indigenous cultures and respect for Mother Earth. For fans of Wolves In The Throne Room, Alda, Fall of Efrafa. 1. Modernity undone 2. Reap the storm 3. Earth First 4. Civilization and its discontents 5. Future primitives
WIND IN HIS HAIR - Future Primitives [CD]
Jewelcase CD with 8 page booklet. The decline of industrial society set to music, for a new life in harmony with nature. Mixing the rough sound of crust punk with the dense atmosphere of black metal makes WIND IN HIS HAIR a unique representative of this relatively new niche in the music landscape. The band carries out an important message about nature, indigenous cultures and respect for Mother Earth. For fans of Wolves In The Throne Room, Alda, Fall of Efrafa. 1. Modernity undone 2. Reap the storm 3. Earth First 4. Civilization and its discontents 5. Future primitives
WIND IN HIS HAIR - Future Primitives [CLEAR/BLACK TAPE CASS]
Clear/black tape, limited to 50 copies. The decline of industrial society set to music, for a new life in harmony with nature. Mixing the rough sound of crust punk with the dense atmosphere of black metal makes WIND IN HIS HAIR a unique representative of this relatively new niche in the music landscape. The band carries out an important message about nature, indigenous cultures and respect for Mother Earth. For fans of Wolves In The Throne Room, Alda, Fall of Efrafa. A1. Modernity undone A2. Reap the storm A3. Earth First B1. Civilization and its discontents B2. Future primitives
WIND IN HIS HAIR - Future Primitives [BLACK TAPE CASS]
Black tape, limited to 50 copies. The decline of industrial society set to music, for a new life in harmony with nature. Mixing the rough sound of crust punk with the dense atmosphere of black metal makes WIND IN HIS HAIR a unique representative of this relatively new niche in the music landscape. The band carries out an important message about nature, indigenous cultures and respect for Mother Earth. For fans of Wolves In The Throne Room, Alda, Fall of Efrafa. A1. Modernity undone A2. Reap the storm A3. Earth First B1. Civilization and its discontents B2. Future primitives
WIND IN HIS HAIR - Earthwrecker [WHITE SPLATTER LP]
Mixing the rough sound of crust punk with the dense atmosphere of black metal makes WIND IN HIS HAIR a unique representative of this relatively new niche in the music landscape. The band carries out an important message about nature, indigenous cultures and respect for Mother Earth. The title of the WIHH debut "Earthwrecker" is an accusation of modern civilization and musical-wise breaches anger and disappointment in its purest unpolished form, yet with an oppressive atmosphere. For fans of Wolves In The Throne Room, Alda, Fall of Efrafa. This high quality vinyl edition brought to you by Supreme Chaos Records features: - 180g heavy vinyl for maximum quality and durability - heavy 350gsm cover with matte inside-out print - heavy matte high quality printed insert - heavy matte printed DIN A2 folded poster with special print - antistatic polylined inner sleeve - handnumbered limited editions Available colors: - 100 x Grey with white and black splatters (30x with patch and tote bag) - 250 x White with grey splatters - 150 x Black Track listing: 01. The Guts of the Land 02. Sequoia 03. Old Light 04. Earthwrecker 05. Black Bark Red Roots