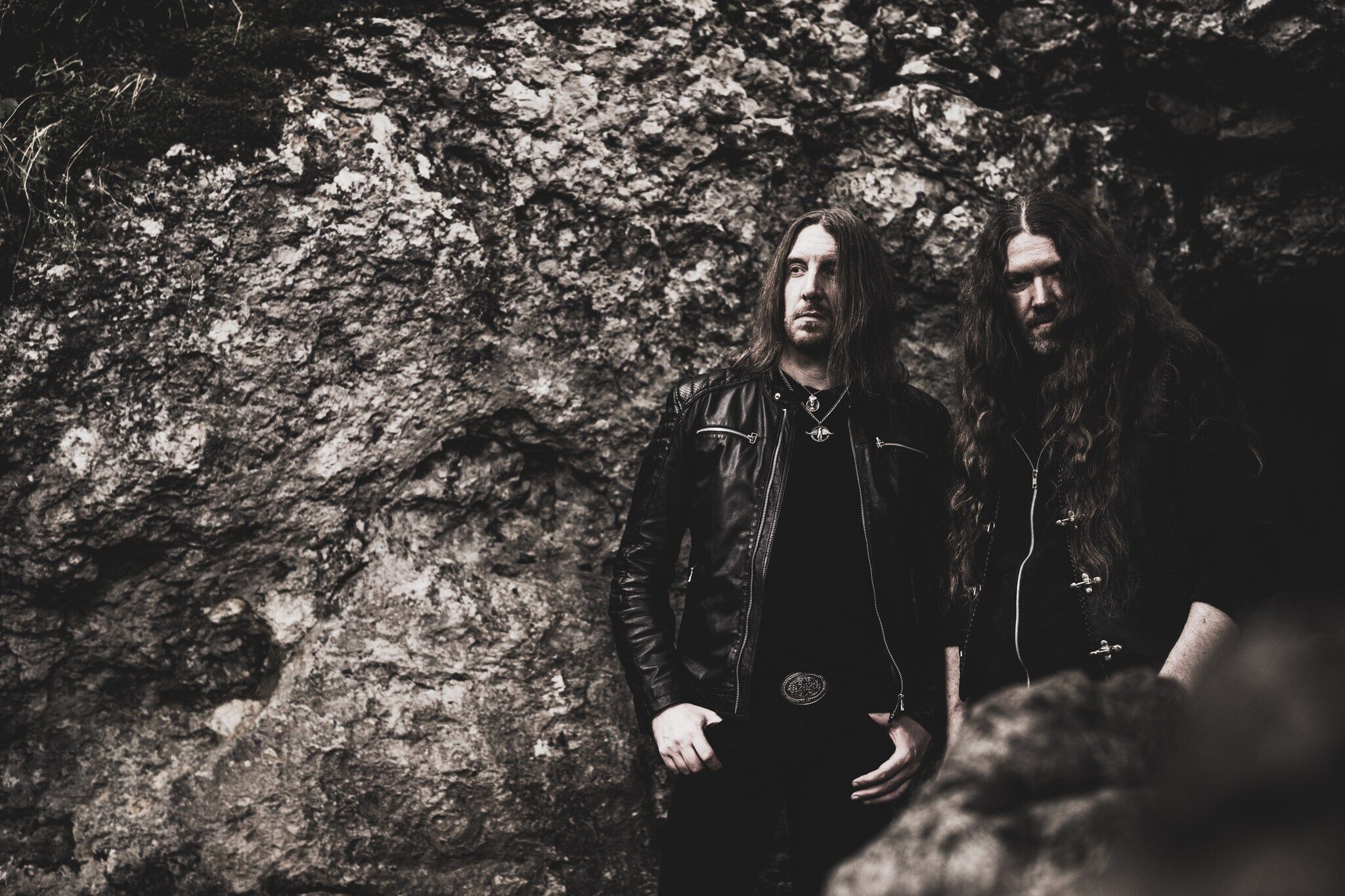 Black Metal from the Black Forest.

With their new album, "Into Sorrow Evermore" IMPERIUM DEKADENZ once again summon the darkness from the depths of the Black Forest. Inspired by the traditions of Norwegian black metal, the band developed their own style, mixing atmospheric compositions with a raw sound. In the meantime, IMPERIUM DEKADENZ have been shaping the genre for almost 20 years, always staying true to their roots and thus claiming their rightful place in the upper echelons of black metal.

"Into Sorrow Evermore" is an intense album that successfully combines elements of different genres while never losing sight of the essence of black metal. IMPERIUM DEKADENZ present their own atmospheric style with high technical skills and thus claim their worthy place at the top of the scene.
IMPERIUM DEKADENZ - Into Sorrow Evermore [EXCUSIVE.GOLD+PATCH DLP]
SCR exclusive golden double vinyl in gatefold sleeve, 300 made in total, 100 copies available at SCR. The 100 SCR copies comes as bundle with synthetic leather hotfoil embossed IMPERIUM DEKADENZ logo patch, these copies are also handnumbered. Tracklist LP 1 A1. Into Sorrow Evermore A2. Truth under Stars B1. Aurora B3. Elysian Fields Tracklist LP 2 C1. Forests in Gale C2. Awakened beyond Dreams D1. November Monument D2. Memories ... a raging River
IMPERIUM DEKADENZ - Procella Vadens [SILVER DLP]
This album of the German IMPERIUM DEKADENZ always serves as a reference of their work. All the more surprising that no vinyl version of the album has been available yet. Supreme Chaos Records have now teamed up with the band to finally bring the album to vinyl honors. The high-quality vinyl edition of "Procella Vadens" was conceived in close coordination with the band and should do justice to the album. Silver double vinyl in gatefold sleeve with printed insert and print on D side, limited to 200 handnumbered copies. - 180g vinyl for a decent handling, balance and permanent vinyl joy - heavy 350gsm gatefold cover with matte inside-out print - heavy matte high quality printed insert - handnumbered limited edition Tracklist LP 1 A1. Die Hoffnung stirbt... A2. Lacrimae Mundi A3. A Million Moons B1. Ego Universalis B2. À la nuit tombante B3. An Autumn Serenade Tracklist LP 2 C1. Ocean, Mountain's Mirror C2. The Descent Into Hades C3. Procella Vadens C4. ...Wenn der Sturm beginnt
IMPERIUM DEKADENZ - Meadows Of Nostalgia [GOLD DLP]
With its incredibly melancholic cover, "Meadows Of Nostalgia" is downright predestined for a valuable vinyl release. This re-release is now to underline the mood of the album with revised artwork and was conceived in close coordination with IMPERIUM DEKADENZ. Golden double vinyl in gatefold sleeve with printed insert, limited to 200 handnumbered copies. - 180g vinyl for a decent handling, balance and permanent vinyl joy - heavy 350gsm gatefold cover with matte inside-out print - heavy matte high quality printed insert - handnumbered limited edition Tracklist LP 1 A1. Durch das Tor... A2. Brigobannis B1. Aue der Nostalgie B2. Ave Danuvi Tracklist LP 2 C1. Memoria C2. Aura Silvae C3. Der Unweg D1. Striga D2. Tränen des Bacchus
IMPERIUM DEKADENZ - Into Sorrow Evermore [BLACK DLP]
Black double vinyl in gatefold sleeve. Tracklist LP 1 A1. Into Sorrow Evermore A2. Truth under Stars B1. Aurora B3. Elysian Fields Tracklist LP 2 C1. Forests in Gale C2. Awakened beyond Dreams D1. November Monument D2. Memories ... a raging River
IMPERIUM DEKADENZ - Procella Vadens [BLACK DLP]
This album of the German IMPERIUM DEKADENZ always serves as a reference of their work. All the more surprising that no vinyl version of the album has been available yet. Supreme Chaos Records have now teamed up with the band to finally bring the album to vinyl honors. The high-quality vinyl edition of "Procella Vadens" was conceived in close coordination with the band and should do justice to the album. Black double vinyl in gatefold sleeve with printed insert and print on D side, limited to 200 handnumbered copies. - 180g vinyl for a decent handling, balance and permanent vinyl joy - heavy 350gsm gatefold cover with matte inside-out print - heavy matte high quality printed insert - handnumbered limited edition Tracklist LP 1 A1. Die Hoffnung stirbt... A2. Lacrimae Mundi A3. A Million Moons B1. Ego Universalis B2. À la nuit tombante B3. An Autumn Serenade Tracklist LP 2 C1. Ocean, Mountain's Mirror C2. The Descent Into Hades C3. Procella Vadens C4. ...Wenn der Sturm beginnt
IMPERIUM DEKADENZ - Meadows Of Nostalgia [BLACK DLP]
With its incredibly melancholic cover, "Meadows Of Nostalgia" is downright predestined for a valuable vinyl release. This re-release is now to underline the mood of the album with revised artwork and was conceived in close coordination with IMPERIUM DEKADENZ. Black double vinyl in gatefold sleeve with printed insert, limited to 200 handnumbered copies. - 180g vinyl for a decent handling, balance and permanent vinyl joy - heavy 350gsm gatefold cover with matte inside-out print - heavy matte high quality printed insert - handnumbered limited edition Tracklist LP 1 A1. Durch das Tor... A2. Brigobannis B1. Aue der Nostalgie B2. Ave Danuvi Tracklist LP 2 C1. Memoria C2. Aura Silvae C3. Der Unweg D1. Striga D2. Tränen des Bacchus
IMPERIUM DEKADENZ - Into Sorrow Evermore [DIGI]
Digisleeve, 3 fold with booklet. 1. Into Sorrow Evermore 2. Truth under Stars 3. Aurora 4. Elysian Fields 5. Forests in Gale 6. Awakened beyond Dreams 7. November Monument 8. Memories ... a raging River
IMPERIUM DEKADENZ - When We Are Forgotten [DIGI]
CD in digipak with 12 page booklet. 1. When We Are Forgotten 2. Bis Ich Bin 3. My Solace I (Choirs Of Solitude) 4. Trauma (Instrumental) 5. A Cave Called Wisdom 6. Transcendence 7. Seance (Instrumental) 8. Absenz Elysium 9. My Solace II (Paths Of Perception) 10. Reverie (Instrumental) 11. Frozen In Time
IMPERIUM DEKADENZ - Dis Manibvs [CD+DVD DIGI DCD]
CD Digipak + Bonus DVD "Live at Summer Breeze Open Air 2014" 1. In Todesbanden 2. Only Fragments of Light 3. Still I Rise 4. Dis Manibvs 5. Pantheon Spells 6. Vae Victis 7. Volcano 8. Somnia 9. Pure Nocturnal Rome 10. Seikilos